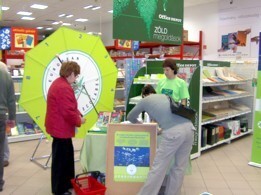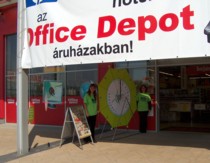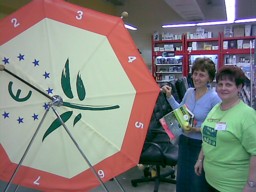 In the framework of the Ecolabel Marketing project, the Center organised Ecolabel Days in four Office Depot stores in Hungary between 13-15 October. The event was part of the Flower Week celebration in Hungary. The objective of the event was to call the attention of customers to ecolabelled products and sustainable consumption. The Ecolabel Days consisted of four one-day events, three of them organised in different Office Depot stores in Budapest and one at Gyor.
Office Depot was chosen for the event because it has a mission to deliver sustainable solutions. Each Office Depot shop has a Green Corner with environmentally friendly products. The stores also promote the green products by issuing a special green catalogue.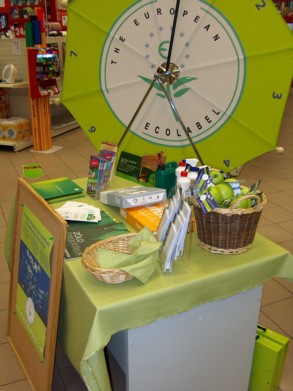 The information stands of the event were set up in the green corners of the stores. They presented customers the EU Ecolabel and several national ecolabels, their system and criteria as well as ecolabelled products available in the stores. Visitors could also test their knowledge about the ecolabels at the quiz-game. With right answers, they could win EUecolabelled Hungarian cleaning products. The main prize of the game was a week-end for two persons at the newest Hungarian tourist accommodation site, the Öko-Park Pansion at Szarvaskő.
The event used a stand with EU Ecolabel brochures, ecolabelled products (printing paper, and cleaning products), the Green catalogue of Office Depot and flyers on EU ecolabelled products and services of Hungarian companies. The roll-up, the big colourful quiz-wheel and the danglers all with the EU and some national ecolabel logos could be seen from each location in the shop. The decoration was fitted to the actual arrangements of the shops. Hostesses wearing green T-shirts offered green apples to visitors. They were shop-assistants provided by Office Depot. The Center for Environmental Studies made a short training for them on the ecolabels in advance to prepare them to answer potential questions. There were small business-card-sized "green cards" with the logos of the most frequent ecolabels attached to the apples. Those visitors who stopped were also offered to participate in the quiz-game and learn about the ecolabels. With right answers, they could win immediate prizes and participated in the final drawing of the main prizes (the week-end and half-a-year supply of ecolabelled cleaning products).
Altogether, 157 customers participated in the game. The estimated total number of interested customers is well over 200. (Customers usually filled out only one quiz-card even if several people came together.)
Customers received the event very well. Some very enthusiastic customers visited the shelves of the green corner of the shops, too.
Shop assistants found the event helpful because they learnt a lot about ecolabels themselves and became better prepared to help their customers. By recognizing the logos of ecolabels on the products, for instance, they can better argue for the related products and propose them to customers.